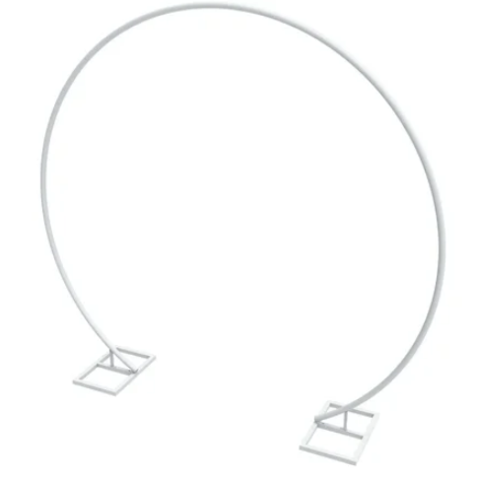 7.2' Metal Arch
Round Metal Arch with Sturdy Base - Our metal arch frame has a sturdy square base and there has a frame connected with the round arch frame, it constitutes the most stable triangular structure, so the whole frame is sturdy, and it won't easy to wobble and move, but we suggest add heavy stuff on the base to make sure it won't wobble in wind. The arch labor is coated with white paint, which enhanced the ability of rust-proof and anti-deform, This iron with good hardness, its weight capacity is 5kg/11 lbs, can hold most decorations, and be reused for a long time. The archway is a perfect ambiance builder for any big event, like a wedding, birthday, bridal shower, party, bachelor party, opening ceremonies, graduation, Christmas decoration, New Year, commercial celebration, etc.
Features
Iron material is sturdy and durable for long-term use.
Pure white paint elevates its rust-proof and anti-deform ability.
Decorate some LED lights, balloons, and flowers, to it to create a stunning gorgeous background.
For larger stability, note to add a sandbag to the bottom.